DOKU.ARTS
Zeughauskino Berlin
10.09.–12.10.2014
Wir hoffen auf ein Wiedersehen 2022!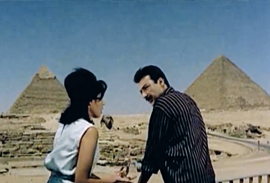 Domestic Tourism II
Ausgehend von einer touristischen Betrachtungsweise der Pyramiden macht sich die ägyptische Künstlerin Maha Maamoun in ihrem melodramatischen und bisweilen irrwitzigen Kompilationsfilm auf die Suche nach neuen ikonografischen Deutungen des "Wahrzeichens" des Landes. Dieser rein aus Szenen der ägyptischen Filmgeschichte bestehende Film – von heute zurückreichend in die 1950er Jahre und wieder zurückgehend in die Jetztzeit – wird zu einer detektivischen Suche nach subtilen Botschaften. "Es interessierte mich," erklärt Maamoun, "wie und wann dieses Symbol Ägyptens als Hintergrundfolie ins Bild kommt und inwiefern seine Instrumentalisierung und Politisierung durch die verschiedenen Regime dabei in den Blick geraten – und wie diese minimalistischen Strukturen, die das nah gelegene labyrinthische Kairo überragen, […] in den fortdauernden Kampf der Stadt mit ihrer eigenen Vergangenheit und Gegenwart eingebunden sind."
Maha Maamoun
Maha Maamoun lebt und arbeitet in Kairo, Ägypten. Als Künstlerin arbeitet sie vorwiegend mit den Medien Fotografie und Video. Kürzlich brachte sie gemeinsam mit Haytham el-Wardany ein Buch mit dem Titel The Middle Ear für die 10. Sharjah Biennale heraus. Zu ihren jüngeren Ausstellungen zählen Second World, Steirischer Herbst (2011), The End of Money, Witte de With – Centre for Contemporary Art, Rotterdam (2011), Mapping Subjectivity, MoMA, New York (2010) sowie Live Cinema, Philadelphia Museum of Art (2010). Für PhotoCairo3 (2005) fungierte sie als Ko-Kuratorin und für Meeting Points 5 (2007) als Kuratorassistentin. Maamoun ist zudem Gründungsmitglied des Contemporary Image Collective (CiC).